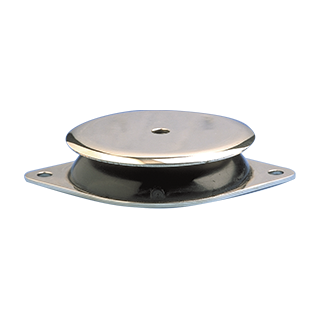 Beca - Elastomer mount
Anti-vibration mount with protective cap, small footprint.
The BECA mount comprises one piece elastomer bonded to a top and bottom plate.
► Top plate: smooth or threaded (welded nut) hole
► Bottom plate: fixing lugs or direct bearing on the ground
► Bonded rubber
► Domed rubber ring
► Anti-slip bead or grooved anti-slip sole
► Removable protective top cover: protects the rubber and distributes the load
Download
Avantages
► The machine may be placed (with its mounts) directly on the ground
► Very slim
► Speed of fixing
► Simple removal of the assembly
► Extensive range: 3 hardnesses of rubber for 6 existing sizes, allowing the mounting to be optimised as a function of the load and stimulation frequency
► A choice of 3 fixing styles
Specifications
The design of the BECA mount gives the following basic characteristics:
► Transverse elasticity approximately the same as the axial elasticity (equifrequency);
► Rubber works in compression;
► Progressive buffer against shocks or accidental overload;
► Anti-slip (may be placed directly on the ground).
Applications for this product