Measuring Process
Find solutions for noise and vibration reduction
Solution for noise and vibration reduction
Hutchinson Paulstra brings to you his experience for the measurement, with the target to bring you a "vibroacoustic" diagnostic of your installation and to help you in the implementation of solutions in your environment. Hutchinson Paulstra uses a multiways range of recorders that allows the analysis of your needs, from the easiest to the most advanced, inside or outside and for stationary or embarked equipment.
Our services :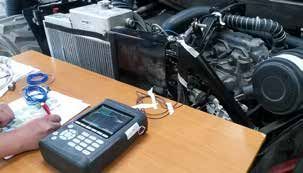 Site displacement
Vibratory recording
Analyzing of the results by our experts
Handing in a detailed report and proposing of the antivibration and acoustic solutions
Tell us about your projects through our contact form (click here).
Need vibro-acoustic analysis ?
Whether it is to identify your needs or evaluate the performance of the equipment in place, our vibro-acoustic analysis will provide you with solutions.
PAULSTRA, EXPERT IN NOISE AND VIBRATION REDUCTION
At Paulstra, we also offer technical recommendations, training and Pausltrasoft software.