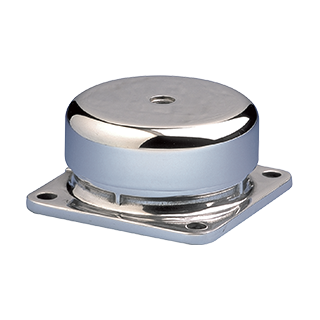 Stabiflex Antivibratory Mount
Natural frequency : 6 to 11 Hz
The STABIFLEX mount comprises a conical rubber section bonded between inner and outer metal parts.
► Steal Centre axis with threaded hole.
► Aluminium Square (four holes) or diamond base (two holes) with clearance hole.
► Bonded natural rubber, anti-slip bead.
► Cup to protect the rubber and distribute the load.
Download
Avantages
► The machine may be placed with its mounts directly on the ground.
► Speed of fixing.
► Easy movement of suspended machinery.
► Rubber protected against harmful liquids.
► Extensive range : 3 hardnesses of rubber for five existing types, allowing the mount to be optimised as a function of the load and exciting frequency.
► May be used with an anti-rebound washer.
Specifications
The design of the STABIFLEX mount gives the following basic characteristics :
► axial elasticity two or three times higher than radial elasticity;
► the rubber works in shear/compression;
► progressive buffer against shocks or accidental overload;
► anti-slip (may be placed directly on the ground).
Recommendations
► In order not to affect the performances of the mounting system, all external connections must be
flexible.
► STABIFLEX mounts must be fitted so that the vibration input is in the axial direction.
Applications for this product