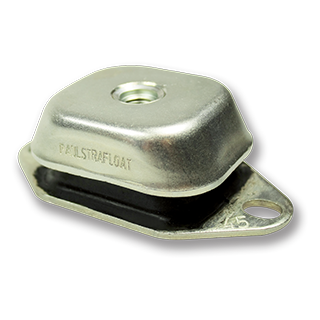 Paulstrafloat® - Anti-vibration mount
For onboard application.
Paulstrafloat® mount of rectangular design is composed of:

► Diamond base (2 holes) with clearance hole;
► Cup to protect the rubber and distribute the load;
► Progressive stiffness and rebound for protection against shocks.
Download
Avantages
► The machine may be placed with its mounts directly on the ground;
► Quick installation;
► Rubber protected against harmful liquids;
► Extensive range: 3 hardnesses of rubber for 3 existing types, allowing the mount to be optimized as a function of the load and forcing frequency;
► Anti-rebound and fail-safe.
Specifications
The design of the Paulstrafloat® mount gives the following basic characteristics :
► Differents stiffness in 3 axis: vertical
- longitudinal (length)
- transversal (width);
► The rubber works in shear/compression;
► Set position control with the slots;
► Higher axial stiffness;
► This mount is suitable for mobile equipment.
Applications for this product