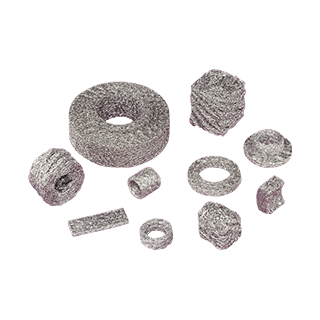 Metallic Cushions - Metallic mount
Support vibration or shock stop in stainless steel wire resistant to harsh environments.
Metallic cushions are made from drawn, woven stainless steel wire that is compressed into a geometric shape. The Vibrachoc range has more than 1000 standard metallic cushions of various sizes and characteristics. As metallic cushions are easy to create, custom shapes and characte-ristics can be developed and produced on request.
Download
Specifications
► The high natural resistance to greases, oils, water, etc. and the high temperature resistance (-70°C to +300°C) make it possible to use the cushions in many industrial applications.
► The increase of the static stiffness according to the crushing of the cushion ensures a progressive stop effect and allows to maintain a constant own frequency for a very wide range of loads, in a small footprint.
► The own frequency of 12 to 25 Hz and the damping of 15 to 20% allow to isolate rotating machines whose speed of rotation is greater than 2000 rpm.
Applications for this product