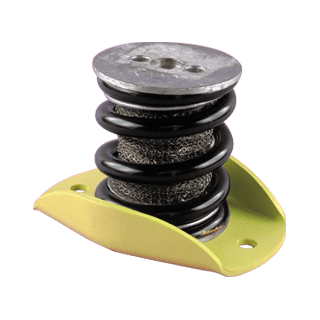 V1B11** mount - Metallic mount
Vibration mounts and shock attenuation performance at amortized for metal springs.


This range of mounts has one or two steel mounting plates depending on the model, one or several high strength steel springs, 2 light alloy rings and a stainless steel wire cushion in each spring. All steel parts are painted.
Download
Specifications
► These very low-frequency dampers up to 3 Hz can be used to isolate machines running at rotation speeds from 450 rpm, vibrators, shock machines and achieve a 95% attenuation.
► They are entirely metallic and can be used outdoors or in the most severe environmental conditions.
► Since they are not very sensitive to creep, their service life can be equivalent to that of the machine they isolate.
► A metal cushion in each spring increases the damping coefficient and limits travel to the resonance frequency.
Applications for this product