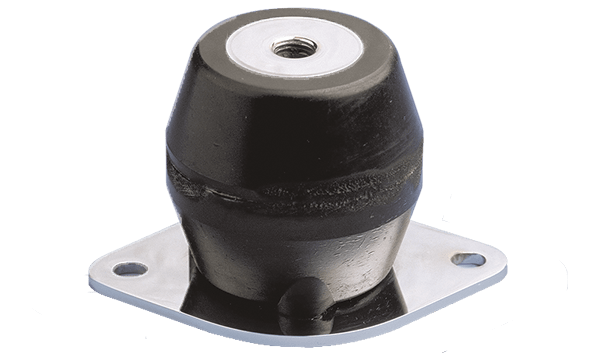 Evidgom® - Conical anti-vibration mount
Flexible support for long travel, efficient mitigation.
The EVIDGOM® mount is formed from two thick conical membranes, joined at their bases to create a highly elastic mounting. There are three variations:
► All rubber EVIDGOM®
► EVIDGOM® with bonded fixing
► EVIDGOM® with a diamond or square mounting plate (fixing plate supplied as a separate kit)
Download
Avantages
► As the load/deflection curve has a point of inflection, a suspension may be designed to have a sub-tangent greater than the static deflection.
► The elastomer used provides intrinsic damping with a corresponding ability to absorb energy which gives appreciable advantages over metallic springs.
Specifications
The design of the EVIDGOM® mount gives the following basic characteristics:
► A very high axial elasticity;
► Very low natural frequency (a few Hertz);
► Progressive buffer against shocks or accidental overload.
Applications for this product