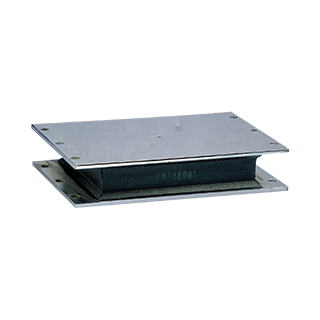 "Sandwich" Mounts
Anti-vibration mount for heavy duty, low thickness and radial flexibility.
The SANDWICH mount comprises one or more layers of elastomer bonded to flat, parallel metallic plates. These mountings may be cylindrical or rectangular. They are designed to withstand very high compressive loads.
The range of mechanical characteristics is governed by the hardness of the rubber and the number of intermediate metallic plates.
► These mountings can support compression from 20 to 100 bars.
► The metal plates usually receive a phosphate anti-corrosion treatment.
► The elastomer is polychloroprene which provides a high resistance to atmospheric exposure.
Download
Avantages
The Sandwich anti-vibration mount offers various benefits:
► Ideal for high-load compression work;
► Metallic anti-vibration plates that frame one or more layers of elastomer;
► Anti-vibration mounts can be easily superimposed;
► Great radial flexibility of the Sandwich mount.
Specifications
The design of the SANDWICH mount gives the following basic characteristics:
► Very slim
► Large surface area
► Stackable mountings
► The suspended equipment is free to move in all directions
► High ratio of compression stiffness to shear stiffness
► Very high compression loads
Applications for this product