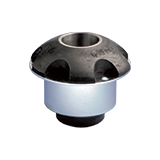 S.C. Mount
Anti-vibration mount, safe for mobile applications, full-width range.


The S.C. mount comprises an annular section bonded between the inner tube and outer housing. The outer housing has a mounting flange (4 different types).
Download
Avantages
► Extensive range:
3 hardnesses of rubber for 20 existing types, allowing the mounting to be optimised as a function of the load and exciting frequency.
Specifications
The design of the S.C. mount gives the following basic characte-ristics:
► Axial elasticity four times higher than radial elasticity;
► The rubber works in shear;
► Progressive buffer against shocks or accidental overload, provided that a large metal washer is used to bear against the rubber dome;
► Can be used as a fail safe assembly when fitted as in shape 1.
Applications for this product