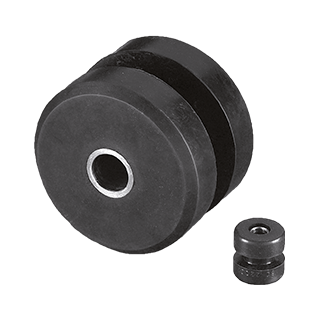 Mount 22000
Safe Antivibration support, for mobile applications, held in compression and expansion, oil resistant.
The 22000 mount is made of two parts of elastomer bonded to a central tube.
► Interior reinforced: cylindrical tube;
► Elastomer: chloroprene. Range of five different stiffnesses.
Download
Avantages
► Good isolation against structural noises;
► Chloroprene resistant to oils;
► Simple and economical;
► Simple to fix;
► Five sizes for a load capacity under axial pressure from 15 to 2100 kg and under radial pressure until 650 kg;
► Anti-rebound effect when it is assembled with a washer.
Specifications
The design of the 22000 mount gives the following basic characteristics;
► Elastomer element resistant to oils, supporting axial and radial loadings;
► Axial to radial stiffness of 1: 1;
► Absorb vibrations and reduce noise in all directions.
Applications for this product