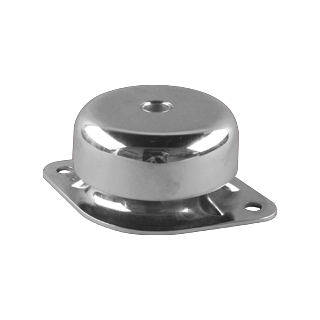 V1H-6000 / V1H-6100 mounts
The V1H-6000 and V1H-6100 steel mounts have a mounting plate, a cover and a swaged steel shaft.
They are available with stainless steel or mild steel zinc plated metalwork.
The resilient parts are stainless steel wire cushions.
The steel parts are zinc plated.
Download
Specifications
The V1H-6000 and V1H-6100 mounts have a natural frequency of between 12 and 18 Hz and are designed for suspending rotating machines, electronic cabinets, pipes, air conditioning systems, etc. Its all metal construction means that its characteristics do not deteriorate with time and it maintains its height under load, even in the most severe ambient conditions and temperatures.
The shape of the armature and upper cushion provide high radial performance and a structural stren-gth of 3 g, making it suitable for mounting on board equipment on military ground vehicles and ships.
Applications for this product