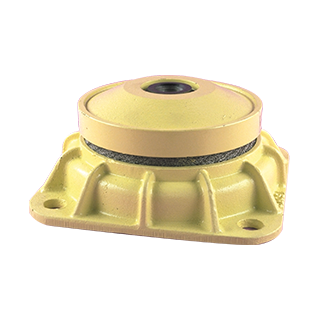 V118-MG / V118-DG / V318 / V318-D mount
Vibration and shock brackets, metal, heavy duty fixed and mobile applications.


V118-MG and V318 mounts have cast iron cover and base with 4 mountings holes in the base and a central tapped hole in the cover. The resilient elements are dtainless steel wire mesh cushions:
► V118-MG and V318 have two cushions;
► V118-DG and V318-D have three cushions.
Download
Specifications
► The clean frequency between 11 and 22 Hz allows to use this series of dampers for the suspension of:
- machine tools (grinders, crushers, balance presses, printing machines, textile machines);
- rotating machines (motors, units, pumps, etc.) running above 2000 rpm for V118-DG and V318-D and above 2500 rpm for V118-MG and V318;
- overhead cranes (metal structures, cabs, equipment).
► Thanks to their equi-frequent characteristics and their anti-bounce metal cushions, these suspensions can be used to suspend engines on board ships, vehicles, etc.
► Their temperature between - 70°C and + 300°C also insulates exhaust manifolds.
Applications for this product