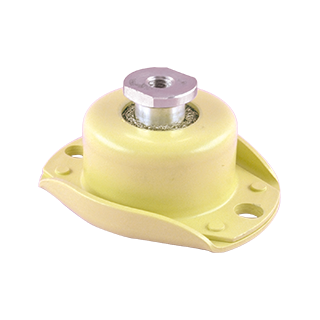 V1H751 / V1H752 mounts
The V1H751 and 752 range has a pressed steel casing and mounting plate and light alloy shaft. The resilient element is a stainless steel wire pad.
The steel parts are painted.
Download
Specifications
The V1H 751 and 752 have a natural frequency between 15 and 25 Hz for static loads under compression.
The -11 and -12 versions are reinforced by radial cushions and can absorb considerable horizontal dynamic forces, which makes it possible to use them for mounting on board equipment in ships, rail, road transport, civil engeneering plant (engines, pumps, generator sets, pipework) or fixed machines that have to be floor mounted.
Applications for this product