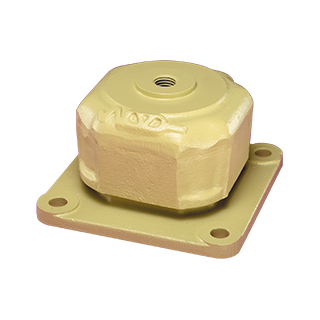 V1H5023 / V1H5025 mounts
The V1H5023 and V1H5025 mounts have cast iron upper housing and base. The base has four fixing holes.
The resilient elements are stainless steel wire mesh cushions. The cast iron parts are painted.
Download
Specifications
Isolation of machine-tools : grinding machines, crushing machines, fly-presses, printing machines, textile machinery, etc.
Isolation of rotating machines : engines, sets, pumps, etc. rotating over 2500 rpm.
Marine : isolation of exhaust pipes, manifold, boilers, motors, sets, pumps, etc.
Applications for this product