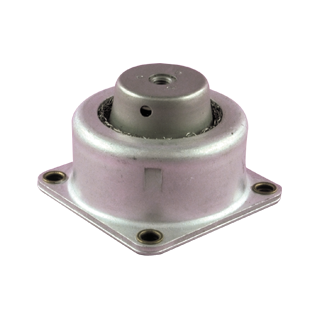 7002 mount - Metallic mount
AVMs amortized for fixed and mobile applications, metal springs.


The 7002 damper has a satin finish treated AG3 casing and mounting plate, a stainless steel centre axis. A spring and stainless steel cushion provide the resilient elements. It has four Ø 5.2 mounting holes in the base and a tapped hole in the centre axis.
Download
Specifications
► Its own axial frequency between 7 and 10 Hz and its integrated limit stop enable the 7002 damper to be used for the protection of electronic or computer equipment, navigation equipment, and on-board measuring instruments.
► It can also be used as a fixed station to suspend control panels on industrial machines.
► Its all-metal constitution allows it to work in the most severe environmental conditions.
Applications for this product