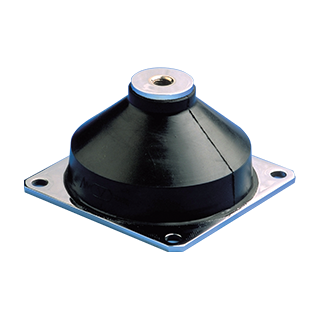 Vibmar - Anti-vibration mount
The VIBMAR series has a base plate with two or four mounting holes and a tapped steel core. The elastomer is bonded to the steel. E1N104 and E1N106 versions have a conical spring embedded in the rubber. Environmental protection is provided by painting the metal parts and by coating the elastomer with an ozone resistant compound.
Download
Avantages
These multi-axis low frequency dampers have been specially designed to protect electrical or electronic racks and marine or road transport generator sets (on board or not). They are cone-shaped to absorb considerable displacement and shocks.
Specifications
Natural frequency :
- axial : 8 to 12 Hz;
- radial : 6 to 10 Hz.
Maximum permitted excitation at the natural frequency of suspension : ± 1.25 mm.
Maximum axial travel available for shocks : 30 mm.
Amplification factor at resonance : < 6 and < 4 for silicone rubber versions.
Structural strength corresponding to a continuous accelaration of 3 g with maximum load.
When suspending an enclosure, the same type of damper should be used as a stabiliser.
Operating temperature : - 30°C to + 100°C;
- 54°C to + 150°C for silicone rubber versions.
Applications for this product