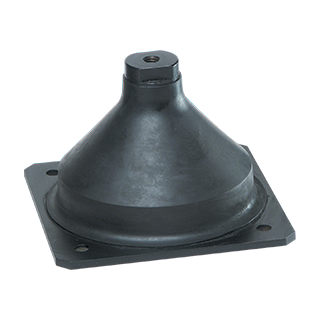 VIB HD 45 - Medium deflection mount
High deflection shock mounts
Range of omnidirectional high deflection shock mounts made with a square base plate and a threaded core on the upper side.
The elastomer, in natural rubber, is developed especially for navy applications (other materials on demand).
Download
Avantages
► These mounts provide both high level of vibration isolation and shock protection. Its high structural strength corresponds to a continuous acceleration of 10 g under maximum load.
► The range includes 17 different mounts covering a wide load range from 15 kg up to 1670 kg per mount.
► This mount meets the latest US and European shock standards in use in the naval forces across the globe.
► The metalworks are protected against corrosion (ie. : salt spray).
Specifications
Assembly :
These parts are designed to be loaded in compression. they have to be installed on a flat surface covering the entire surface of the base plate. The supported structure is then secured to the central core using a high tensile screw M20.
For a better result, the load per mount should be evenly distributed. In the case of a tall suspended equipment, these mounts can be used as stabilizing devices. They will be secured to the equipment only after stabilization of the base mount.
These mounts are not designed to carry a permanent load in shear or in tension.
All connections with the suspended equipment must be flexible and capable to accept high displacement allowing the suspensions to work properly.
We strongly recommend to have your installation approved by our technical department before ordering the mounts.
Applications for this product