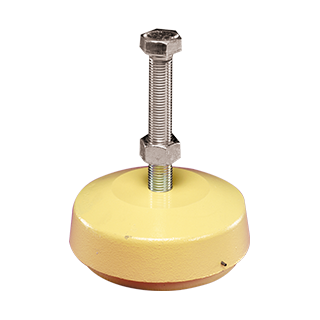 Adjustable mount V47 / V47D / V47T / V47Q
Adjustable equipment foot cushion with anti-vibration stainless steel wire for heavy loads.


► Anti-vibration mount available with a constant natural frequency over a wide load range;
► Cast iron base and levelling device;
► Conical wire mesh cushion, capable of narrying lateral loads;
► V47D version has a stack of two cushions with a cast iron separating cup;
► V47T and V47Q have three and four metal cushions respectively.
Download
Specifications
► This adjustable machine stand is used for the insulation of machine tools and turning machines in general.
► The V47 and V47D are well suited for mounting under presses or printing machines.
Applications for this product