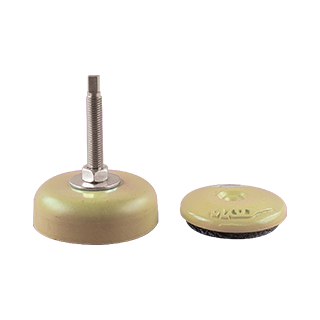 V43, V44, V45 and V46 mounts
Standard V43, V44, V45 and V46 mounts have a cast steel base and a resilient element made from a stainless steel wire cushion.
The version H includes a cup and a levelling stud. It can also be equiped with grip pads. Version W differs from the standard version as it has a thicker cushion for greater flexibility.
Download
Specifications
► This range with a natural frequency of 15 to 30 Hz can be used for mounting machine tools in harsh industrial environments.
► They are unaffected by oil, temperature and fatigue and their life time is often the same as that of the machine.
► The thicker metallic cushion of the version W, can be used for mounting forming tools (presses, shears, folding machines) and improves the vibration isolation level.
Applications for this product