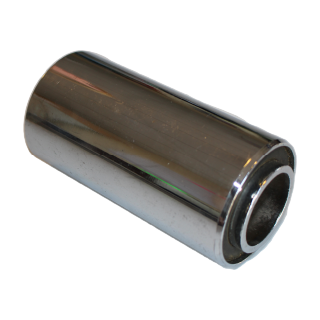 Special Bushes
Flexible bushes antivibration for rotating shafts, reducing friction and mecanical attrition.


► CONICAL BUSH: This takes the form of a rubber sleeve whose external surface is a truncated, and which surrounds a cylindrical internal part to which it adheres strongly by high radial expansion. Assembly in pair, in a housing made up of two truncated cones placed small end to small end. By axial pressure, a high compression is created which ensures the external adherence of the rubber and causes lateral cushions to form at each end of the housing. These cushions ensure resistance to axial forces.
► SILENTBLOC: This is a bush made up of 2 concentric tubes between which a ring of "adhérite®" elastomer is inserted by force. Under the effect of external forces or torques, the relative movement of the tubes will cause an elastic deformation of the elastomer. Above a certain value the adherite will slide in the tubes. These simple bushes are considered to have lateral stops (fig. 3) when the elastomer protrudes from the external tube in the form of a support surface with various profiles.
Download
Applications for this product