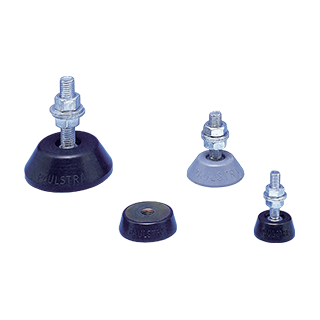 Minifix® - Feet machine
Anti vibration adjustable equipement for machine foot,steel or stainless. Low loads.


The MINIFIX® mount comprises an elastomer pad with an anti-slip ridged surface and a threaded stud allowing accurate height adjustment of equipment. Made in two hardnesses (50 and 80 Sh) the MINIFIX® mount is perfectly suited to a variety of applications and is delivered complete with fixing nuts and washers. MINIFIX® mounting nuts and screws are made of steel or stainless steel.
Download
Avantages
Simple and economic, MINIFIX® mountings are particularly suitable for the installation of equipments.
Applications for this product