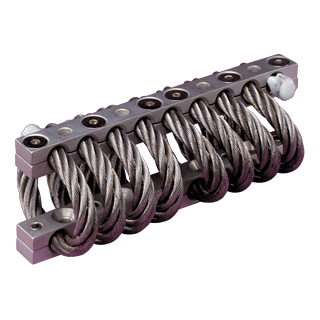 Vibcable mount - Metallic mount
Antivibration mount multidirection with large deflections for the protection of mobile devices.


► This range of mounts has a stainless steel cable wound between light alloy bars. The 8010 to 8060 versions are assembled using stainless steel clips and the 8080 to 8140 models have galvanised steel screws.
► There are two or four mounting holes, per bar, smooth, counter sunk or tapped.
Download
Specifications
► A clean frequency between 5 and 25 Hz, a damping up to 40% and a large multiaxial deflection allow to absorb the accelerations of material undergoing shocks or falls.
► Protection of container material, protection of bays and any fragile material on board.
Applications for this product