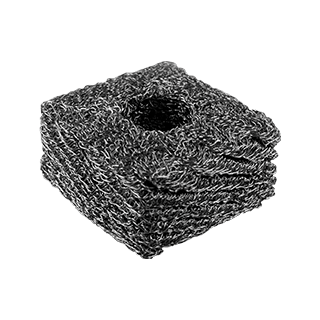 Square metallic mount - VI786-A06 / VI700-A06 / VI700-B06
Cushion antivibration wire resistant to high temperature stainless steel piping decoupling.


This suspension system consists of rectangular cushions made of woven compressed stainless steel wire. The VI786 have a Ø 9 bored screw hole, so that they can be mounted in collars with the diameters required by the user.
Download
Avantages
► Insensitive to aggressive agents, oils, greases, corrosion, it resists extreme temperatures from -70°C to +300°C.

► The clean frequency between 15 and 20 Hz allows a solid decoupling of the pipe support and thus improves the acoustic levels and the free expansion of the columns.
Specifications
This space-saving suspension is particularly suitable for the insulation of exhaust manifold piping for engines of on-board or stationary power generating sets in buildings.
Applications for this product