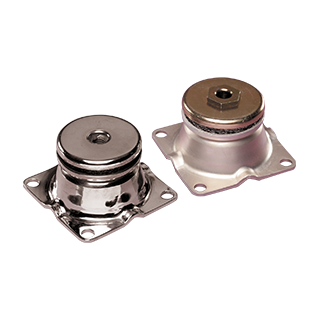 V164 / V168 mounts
The V164 and V168 dampers have a cover, an AG3 mounting plate and an AU4G shaft. The assembly is chromatised.
The upper and lower stainless steel cushions are the resilient elements of the mount. It has four Ø 8 mounting holes on the mounting plate and one M10 tapped hole on upper cover.
Download
Specifications
The load range of between 5 and 170 kg makes it suitable for isolating light machine tools from motors with rotational speeds of over 2500 rpm.
The V164 has an isometric natural frequency of 15 to 22 Hz and 8 to 12 Hz. Their lower cushion can withstand accidental traction forces (for example, shock rebound).
These dampers are not affected by aggressive chemicals and can be used, for example, for mounting petro-chemical pumps.
Applications for this product