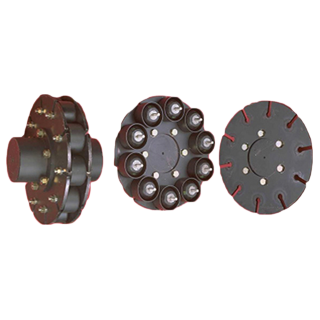 Radiaflex® RTP - Elastic coupling
Stud couplings for very high torque and resumption of axial forces.

► Elastic element consisting of a number of ELASTIC STUDS according to the couples to be transmitted:
- mass of natural rubber of truncated shape.
- internal frame adhered to rubber.
- screw stud.
- external frame adhered to rubber.
- threaded rod welded to the frame.
- metallic cylindrical bell.
► Steel flanges:
- identical flanges, bolted on the sleeves and receiving the studs in the notches.
► Sleeves:
- die-cast steel.


Download
Quick search
Specifications
The design of the RADIAFLEX® RTP coupling confers the following properties:
► Radial disassembly of the studs without moving the coupled machines;
► At low and medium torques: work of rubber in compression;
► At high torques: progressive rubber stop effect against metal bells;
► Positive security;
► Axially can withstand tensile or compressive forces (e.g., propeller thrust and traction).
Applications for this product