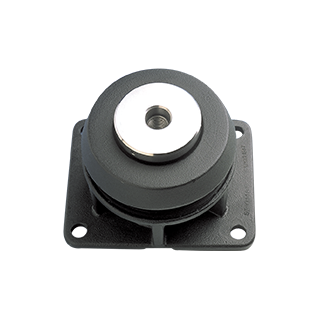 Engine mounting systems
Anti-vibration mount for specific heavy duty engines.
This engine mount is made of one conical elastomeric element enclosed in a cast iron assembly. A built-in adjustable stop limits the vertical and lateral displacement during shock. This mount is available in four different alternatives depending on the type of upper fixing needed. It can be supplied with or without levelling system and with a threaded hole or a threaded stud.
Download
Operation
This mount has been designed to suspend fixed or mobile generators which require a high level of vibration isolation and shock protection. The load per mount varies from 600 kg to 2300 kg. This load range is covered by 5 different variants (12 to 16) clearly identified by a coloured marking (see table). This mount is available in four different alternatives depending on the type of upper fixing needed: -- 905201: No levelling system - M24 x 3.00 threaded hole -- 905202: Built-in levelling system - M24 x 3.00 threaded hole -- 905203: No levelling system - M24 x 3.00 threaded stud -- 905206: Built-in levelling system - M24 x 3.00 threaded stud
Applications for this product