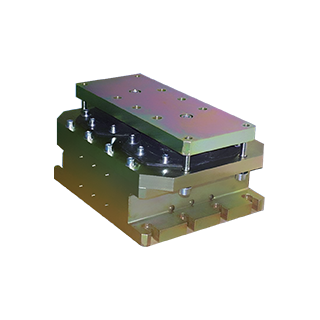 Active control systems of noise and vibrations
Marine suspension
The custom vibration isolation, high and low frequency curative solution.


Since 1988, PAULSTRA has designed and developed active isolation systems. These systems are an extension of the PAUSTRA/VIBRACHOC range of product with high efficiency at low frequencies. Active control combines our knowledge in vibration control to the efficiency of electronic systems. The active pad shown on the picture/photo above is added under a conventional mount in order to improve the reduction of noise and vibration.
Download
Avantages
► To improve dynamic isolation offered by passive suspensions of the same stiffness.
► To improve uncoupling between structures.
► To simplify the installation of the equipment by reducing or eliminating inertia blocks.
► To reduce structural stress and increase life.
► To reduce noise.
► To reduce movement of connections to equipment.
► Excellent vibration reduction: 12 to 36 dB of additionnal filetering compared to the passive solution only.
► Total suppression of the most annoying harmonic.
► Performance upgrade of existing machines with minimum impact ( Add-on kit).
► Space & weight saving.
► Improve the professionnal environment in term of noises and vibrations exhibition.
► Reduce submarines noises.
Specifications
Marine support shall perform the following functions:
► Maintien de la masse suspendue en l'absence de choc avec une capacité d'isolation vibratoire et/ou acoustique;
► In case of shocks: limitation of force and/or displacement to acceptable values;
► After shocks: return of the suspended mass to its initial position.
Applications for this product