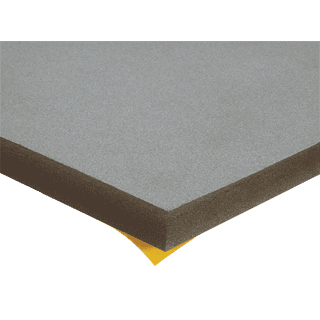 Rubber Cellular Foam Meeting with fire standard M1/F3 | 841007
NBR-PVC based waterproof cellular rubber thickness 30 mm (± 3 mm) self adhesive layer on one side. Temperature range: - 40 °C up to + 90 °C continuous. Very good resistance to oil. Good fire properties with very few smock released. Self extinguishible Rated: M1/F4 (NFP 92507).


STRASONIC® is a range of complex materials designed to provide the best acoustic isolation. Their structure is based on polyurethane foams or cellular rubber. Their main function is to reduce airborne noise (Isolation, Absorption and Damping) in partial or complete enclosures of machinery.
Download
Avantages
► The acoustic foam of cellular rubber has a very good oil resistance, is resistant to low smoke emissions and has a self-extinguishing character.
► Classified as M1/F3 fire according to NFP 92507 (non-flammable), the sound insulation foam PU heavy weight is also a very good thermal insulation.
► The range of operating temperatures for this acoustic foam reference is intended to be very wide, ranging from -40°C to +90°C.
► The acoustic foam panels are designed to fit into many different equipment and meet multiple user needs.
► Cellular rubber sound insulation foam has excellent acoustic performance at high frequencies from 2,000 Hz.
Specifications
Average sound foam absorption K: 64% at 1250 Hz.
Increased sound comfort on steel sheet:
► 10 dB to 2500 Hz
► 20 dB to 5000 Hz
Foam operating temperatures for sound insulation: -40°C to +90°C.
Classement au feu de la mousse acoustique : M1/F3.
Conception de la mousse phonique Strasonic : 30 mm de mousse en caoutchouc cellulaire, bas NBR-PVC.
Applications for this product