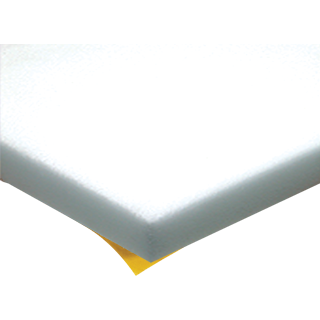 Foam Meeting with fire standard M1 | 841006
Melamine Resin based soundproofiing foam, thickness 30 mm, self adhesive layer on one side. Temperature range: up to +150°C. Fire resistance: M1/UL94 - B1/DIN 4102. Classiefied 0/BS476 6/7.


STRASONIC® is a range of complex materials designed to provide the best acoustic isolation. Their structure is based on polyurethane foams or cellular rubber. Their main function is to reduce airborne noise (Isolation, Absorption and Damping) in partial or complete enclosures of machinery.
Download
Avantages
► The sound foam made of melamine resin has excellent acoustic performance from 1,250 Hz.
► This acoustic foam can be used over a wide range of temperatures, with temperatures up to +110°C.
► The Strasonic sound insulation foam proposed by Hutchinson Paulstra has the advantage of being non-flammable (fire classification M1).
Specifications
► Extended foam operating temperature: up to + 110°C;
► Fire resistance of melamine resin sound-absorbing foam: M1- B1/DIN 4102.
► This acoustic foam is rated 0/BS476 6/7.
► The foam for sound insulation is in plates of 500 mm side and 30 mm thickness for a weight of 0,14 kg.
► Mean absorption of sound-absorbing foam: 85% from 2000 Hz.
Applications for this product