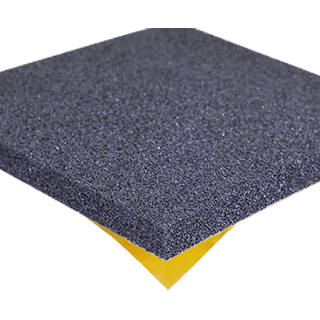 Cellular Rubber EPDM based | 841004
EPDM based cellular rubber with half closed cells. Thickness 15 mm. Self adhesive layer on one side. Temperature range continuous from - 40°C to + 130°C. Very good resistance to air, ozone and UV. Very flexible. Good ageing resistance. Waterproof if slightly compressed. Fire resistance: FMVSS 302.


STRASONIC® is a range of complex materials designed to provide the best acoustic isolation. Their structure is based on polyurethane foams or cellular rubber. Their main function is to reduce airborne noise (Isolation, Absorption and Damping) in partial or complete enclosures of machinery.
Download
Avantages
► The Strasonic sound foam in spongy rubber based EPDM is very versatile and resistant. Ozone, air, UV rays, water run-off under compression: these foam plates for sound insulation have an exceptional resistance to aging.
► The temperatures at which the Strasonic sound foam can be used continuously vary over the extremes from -40°C to +130°C.
► The acoustic performance of the spongy rubber Strasonic foam is excellent in high frequencies, starting at 2,000 Hz.
Specifications
► Continuous foam operating temperatures ranging from -40°C to +130°C;
► Tenue au feu de la mousse phonique : FMVSS 302;
► Résistances multiples du complexe de mousse en caoutchouc spongieux : ozone, air, UV;
► Phonic foam presented in panels of dimensions 500 x 500 mm for 15 mm thickness;
► K average absorption of acoustic foam panels: > 50% from 600 Hz.
Applications for this product