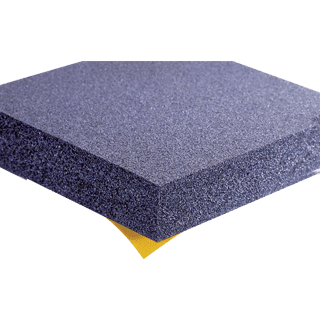 Cellular Rubber NBR based | 841003
NBR based waterproof cellular rubber, thickness 33 mm. Self adhesive layer on one side. Temperature range static from - 40°C to + 105°C continuous. Very good resistance to oil, ozone, air and UV. Fire resistance: M4/FMVSS 302.


STRASONIC® is a range of complex materials designed to provide the best acoustic isolation. Their structure is based on polyurethane foams or cellular rubber. Their main function is to reduce airborne noise (Isolation, Absorption and Damping) in partial or complete enclosures of machinery.
Download
Avantages
► The NBR cellular rubber sound foam offers a very good hold to oils and has excellent thermal insulation capabilities
► This nitrile-based foam can be used statically at extreme temperatures between -40°C and +90°C
► The acoustic foam panels are designed to fit into many different equipment and meet multiple user needs
► Cellular rubber sound insulation foam has excellent acoustic performance at high frequencies from 2,000 Hz
Specifications
K average sound foam absorption: 50 % from 600 dB.
Gain en confort sonore sur tôle d'acier grâce à la mousse insonorisante PU masse lourde:
► 10 dB to 2500 Hz
► 20dB to 5000 Hz
Foam operating temperatures for sound insulation: -40°C to +90°C.
The fire classification of this sound-absorbing foam is M4/FMVSS 302 (highly flammable).
Sound-proof foam in 500 x 500 mm plates.
Strasonic sound foam design: 33 mm of nitrile-based cellular rubber, 100% waterproof, adhesive on one side.
Applications for this product