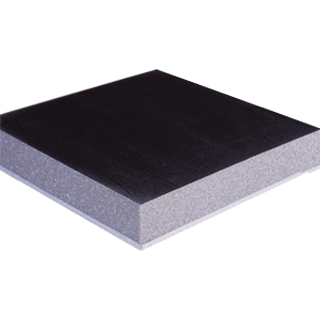 Polyurethane Foam Heavy weight and PU Film | 841002
100% waterproof black PU film bonded to 25 mm of heavy weight 5 kg/m2 corrugated PU Ether absorption foam bonded to 3 mm of spring foam. Temperature range: from - 25°C to + 110°C. Fire resistance: M4.


STRASONIC® is a range of complex materials designed to provide the best acoustic isolation.
Their structure is based on polyurethane foams or cellular rubber.
Their main function is to reduce airborne noise (Isolation, Absorption and Damping) in partial or complete enclosures of machinery.
Download
Avantages
► The phonic honeycomb foam of the Strasonic range is perfectly waterproof.
► Wide range of operating temperatures for this acoustic foam: -25°C to +110°C.
► The Strasonic honeycomb foam offers excellent performance over a wide range of frequencies, from 125 Hz to 4,000 Hz.
► Approximate sound comfort gain on steel sheet: 20 dB.
► Ideal for the insulation and cowling of industrial machinery.
Specifications
► Sound foam fire resistance: M4 (highly flammable).
► The heavy weight PU honeycomb foam is available in 700 x 500 mm wide panels, in adhesive or non-adhesive version.
► It is advisable to use a neoprene-based adhesive to fix the non-adhesive sound foam.
Applications for this product