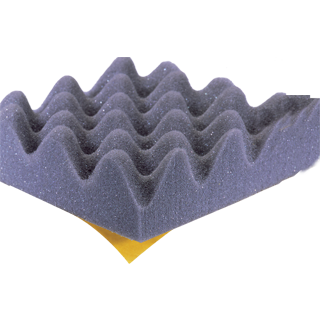 Strasonic Acoustic Foam | 841000 / 841010
Phronic foam
50 mm of corrugated PU Ether absorption foam. Self adhesive layer on one side. Temperature range: from - 25°C to + 110°C. Fire resistance: M4.


STRASONIC® is a range of complex materials designed to provide the best acoustic isolation. Their structure is based on polyurethane foams or cellular rubber. Their main function is to reduce airborne noise (Isolation, Absorption and Damping) in partial or complete enclosures of machinery.
Download
Avantages
► Ideal foam for acoustic insulation;
► Absorption surface increased by 40% thanks to the foam's honeycomb surface;
► Wide range of operating temperatures;
► Simplified adhesive installation system;
► Many references and sizes of custom-made sound foams on demand.
Specifications
► Working temperatures: -25°C to + 110°C
► Fire resistance: M4
Acoustic and insulating foams cover multiple fields of application.
They are easy to handle due to their size, can be cut easily with a cutter, light and easy to install thanks to their self-adhesive surface.
Applications for this product