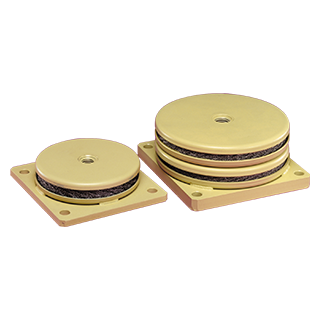 V120 / V120-D / V125 / V125-D
Series of all metal low profile mounts with one or two cushions, working in compression only, permitting high dynamic overloads (using a load distribution plate). Mounts can be fixed to floor.
Made of cups welded on a steel base with one or two stainless steel cushions (inox 18/8).
The steel parts are painted to protect against corrosion.
Download
Specifications
These mounts are designed for :
► suspension of presses;
► suspension of machine-tools which do not need levelling;
► suspension of transformers, diesel engines;
► suspension of rotating machines operating :
> 2500 rpm : V120 and V125;
> 2000 rpm : V120-D and V125-D.
Applications for this product