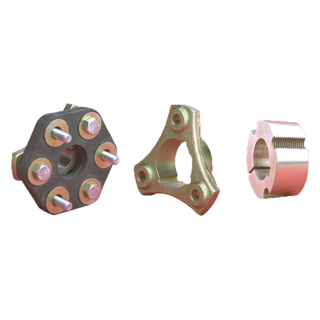 Straflex® with separate hub - Elastic coupling
Couplings for high speeds for high torque.


► Flexible element:
-Metallic bobbins linked together by rayon fibres.
-The whole unit is potted in natural rubber and is hexagonal.
► Flange:
-Forged steel specially bored to accommodate the separate hub.
-Universal separate hub (not supplied by PAULSTRA).
Download
Avantages
►Reduced size
►Simplified axial positionning
►Easy to assemble and disassemble
►Reduction of costs by simplifying the machining required for the shafts and flanges
Specifications
In addition to the characteristics described above, the separate hub used in conjunction with the STRAFLEX coupling provides the advantage: ready to assemble without machining.
Applications for this product