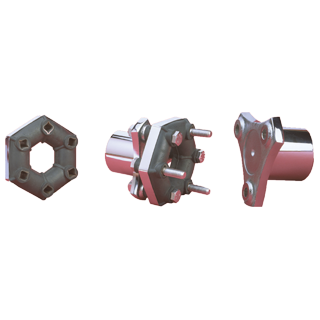 Juboflex® type S - Elastic coupling
Couplings strengthened, flexibility, strong resistance to means couples.


► Flexible element:
-Precompressed natural rubber
-Bonded metal reinforcing mountings
-Precompression band (to be removed after installation)
► Flange:
-Die-cast steel (except 632267 which is cast-iron)
Download
Avantages
► JUBOFLEX "S" has a greater load capacity than the standard JUBOFLEX.
►Highly effective attenuation of cyclic irregularities and peaks in the torque.
►Due to the precompression, the JUBOFLEX "S" has very good resistance to torsional peaks.
►Tolerance to large misalignment: avoids the need for precise alignment of the machines to be coupled.
Specifications
The design of the JUBOFLEX® "S" coupling gives it the following properties:
► Radial disassembly without moving the coupled machines;
► Pre-compression of the elastic element during assembly, which limits the traction work of the rubber.
Applications for this product