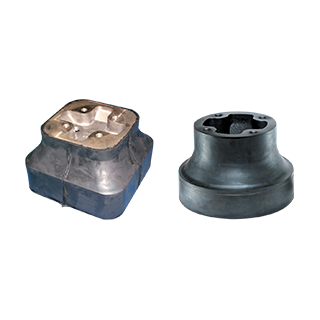 VIB HD 56 - Medium deflection mount
High loads
A complete range of high deflection omnidirectional mounts. They are made of two cast iron inserts, a threaded steel plate holding the fixing interfaces is added to one end.
The elastomer is a specially developed natural rubber to meet the navy requirements (Other materials can be delivered on request).
Download
Avantages
► These mounts will provide both a very high level of vibration attenuation and a high shock capacity to reduce the transmitted acceleration. It's structural resistance correspond to a continuous acceleration of 10 g at the maximum load.
► The range is made of several references with a load range ranging from 1125 daN up to 7000 daN per mount.
► These mounts meet both the European and North American shock standards.
► The metalwork are treated against corrosion.
Specifications
► These mounts are designed to carry load in compression and should be installed on a smooth surface. The equipment in Men second using 4 M20 bolts (shapes 1 and 2).
► For a better result, the load per mount should be evenly distributed. In the case of a tall suspended equipment, these mounts can be used as stabilizing devices. They will be secured to the equipment only after stabilization of the base mount.
► These mounts are not designed to carry a permanent load in shear or in tension.
All connections with the suspended equipment must be flexible and capable to accept high displacement allowing the suspensions to work properly.
► We strongly recommend to have your installation approved by our technical department before ordering the mounts.
Applications for this product