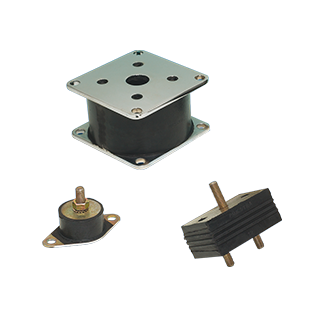 Other mounting systems
Vibratory feet and clamps, supports with mounting
To reduce the vibrations of your equipment, Hutchinson Paulstra offers a new range of elastomeric vibration-relieving supports.

Our anti-vibration supports are available with mounting and perfectly adapted to high loads. vibration-damping mounts, vibration-damping mounts, sandwich mounts... Our out-of-category supports for vibro-acoustic insulation are available in different sizes and configurations, to adapt to your different equipment.

Discover all of our elastomeric vibration mounts by consulting the datasheet.
Download
Avantages
► Vibration-resistant feet and pads for heavy loads
► Anti-vibration mounts with mounting
► Compressive strenght
► 10 diameters of anti-vibration supports available
► Hardness of variable supports
Specifications
► Hardness between 45 and 60
► Diameter from 54 to 82,5 mm
► Until 2 dividers
► Arrow from 2 to 4,5 mm
► Load between 150 and 200 daN
Applications for this product