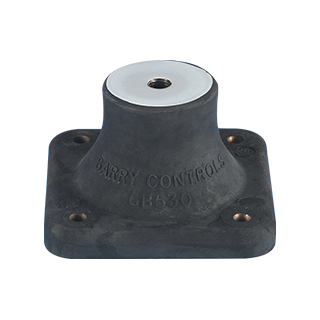 GB 530 Mounts - Elastomer mount
Marine suspension
Antivibration and schock mount for navy, UK standards.


The GB530 comprises of one part in elastomer bonded to a base plate and a tapped steel core (a non magnetic version is also available).
Download
Avantages
► Can provide high deflection under shocks
► Long life
► Low natural frequency (5 Hz in axial)
► Low amplification at resonance.(8 at 10)
Specifications
Marine support shall perform the following functions:
► Maintenance of the suspended mass in the absence of shock with a vibratory and/or acoustic insulation capacity;
► In case of shocks: limitation of force and/or displacement to acceptable values;
► After shocks: return of the suspended mass to its initial position.
Applications for this product