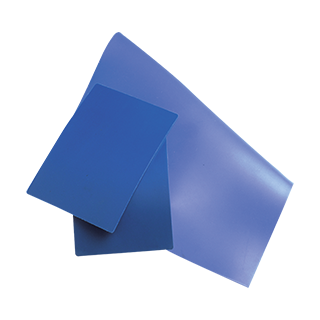 Elastomer plates E3PEPL
Cuttable plates in damped silicone rubber.
VHDS elastomer sheet.
► Dimensions: 300 x 300 mm
► Thickness: 2, 3, 4, 5, 6, 8, 10 mm
► Shape: Square
For an anti-vibration plate of another thickness, size or material, contact us.
Download
Avantages
The anti-vibration cutting plate proposed by Hutchinson Paulstra offers you the possibility to design yourself different anti-vibration elements. Made of damped silicone (VHDS), the vibration-damping plate is 6 mm thick, which allows you to cut out grommets, washers and seals that are effective for vibro-acoustic insulation of your industrial machines and machines.
Specifications
Ideal for cutting vibratory supports such as washers or grommets, the Vibrachoc cushioned silicone vibratory plate developed by Hutchinson Paulstra adapts to your needs.

Available in 300 mm side squares, for thicknesses ranging from 2 to 10 mm, the VHDS anti-vibration plate is easily cut out to easily create the vibratory insulation element you need, with the right dimensions.
Applications for this product