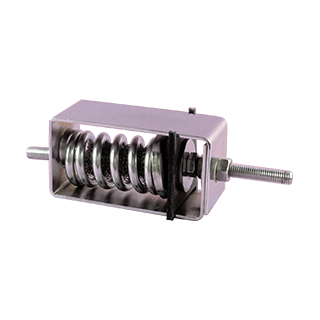 VE101 / VE111 / VE112 / VE113 mount
Metal hanger vibration springs for ceilings and all motive power applications.


► VE isolators have a cylindrical stainless steel spring, a galvanised body, an elastomer noise reduction guide and steel rings or studs depending on the model.
► The VE112 series has a steel cushion inside the spring.
Download
Operation
Thanks to their own frequencies between 3.5 and 6 Hz, these dampers are specially designed for the suspension of false ceilings, air conditioners and piping, and make it possible to significantly improve acoustic levels in buildings.
Applications for this product